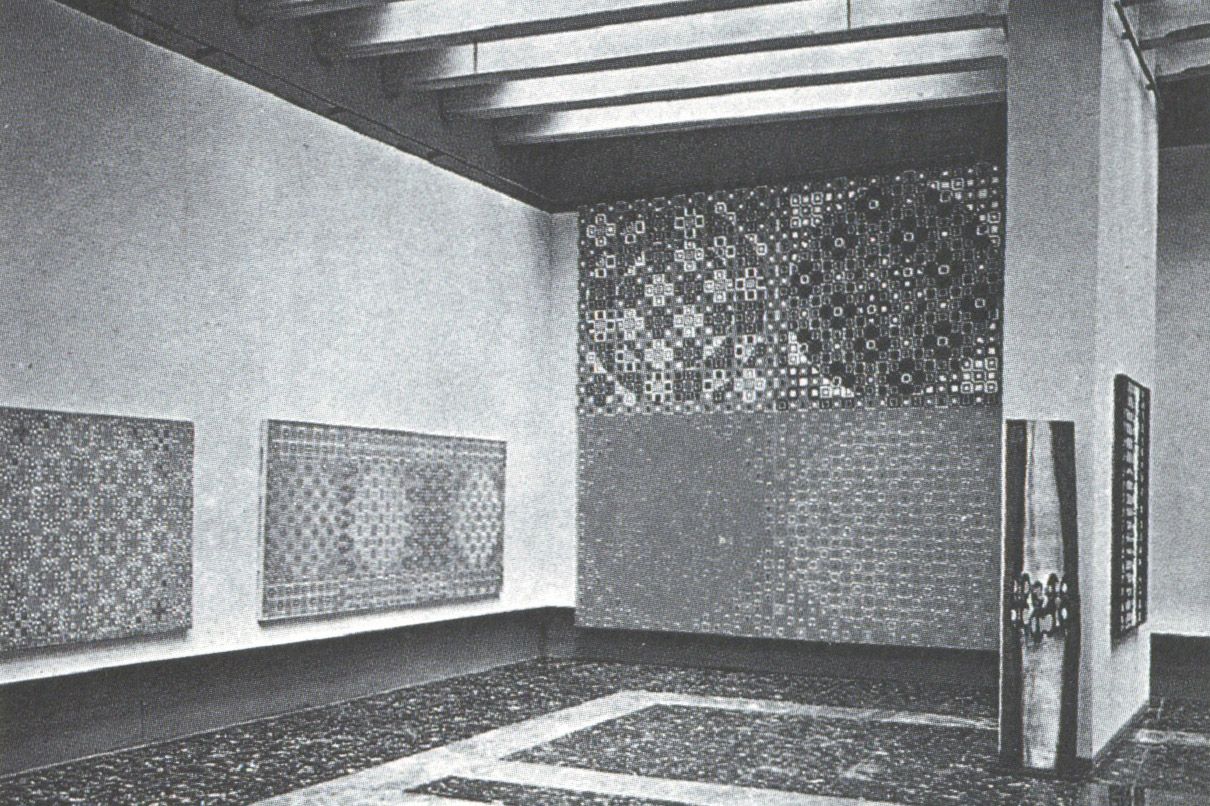 1964 32nd
International Art Exhibition
La Biennale di Venezia
According to Commissioner Yasuo Kamon, "Yoshishige Saito, Toshinobu Onosato, Hisao Domoto, and Tomonori Toyofuku (selected as exhibitors), are all artists who have sought new expressions that draw on traditions unique to Japan, based on their deep insight into various trends of art in the world."

Saito, who participated in the Japan Pavilion exhibition for the second time following 1960, presented a series of works that did not fit within the conventional framework of the painting, taking on the form of plywood reliefs characterized by their distinctly textured surfaces. The picture plane composed of deep red tones had appeared somewhat reminiscent of paper cutouts.

Onosato's work consisted of five oil paintings in a "geometric abstract style" with squares painted in bright colors filling the entire picture plane like a mosaic, from which large circular forms appeared to emerge.

Toyofuku, who was based in Milan, also participated for the second time, and exhibited nine sculptures created through piercing numerous oval holes into wooden boards and bronze boards。

Domoto, who lived and worked in Paris, presented his "Solution of Continuity" series, in which he continuously depicts patterns evocative of a car's wheel tracks as well as checkered motifs in three colors of red, black, and white. The thickly applied paint and traces of brushstrokes emphasize the materiality of the picture plane, the results of which are works that contemplate the "dissolution" of order and disorder. For this work, Domoto received the "Arthur Lejwa Award", which is awarded to artists under the age of 40 who have exhibited for the first time at the Biennale.


The Japan Pavilion
Artists

Commissioner
32nd International Art Exhibition
La Biennale di Venezia
Theme

Curator

Gian Alberto Dell'Acqua

Dates

June 20 - October 18, 1964
All texts are based on information at the time.
Images for which the photographer is unknown are not credited.