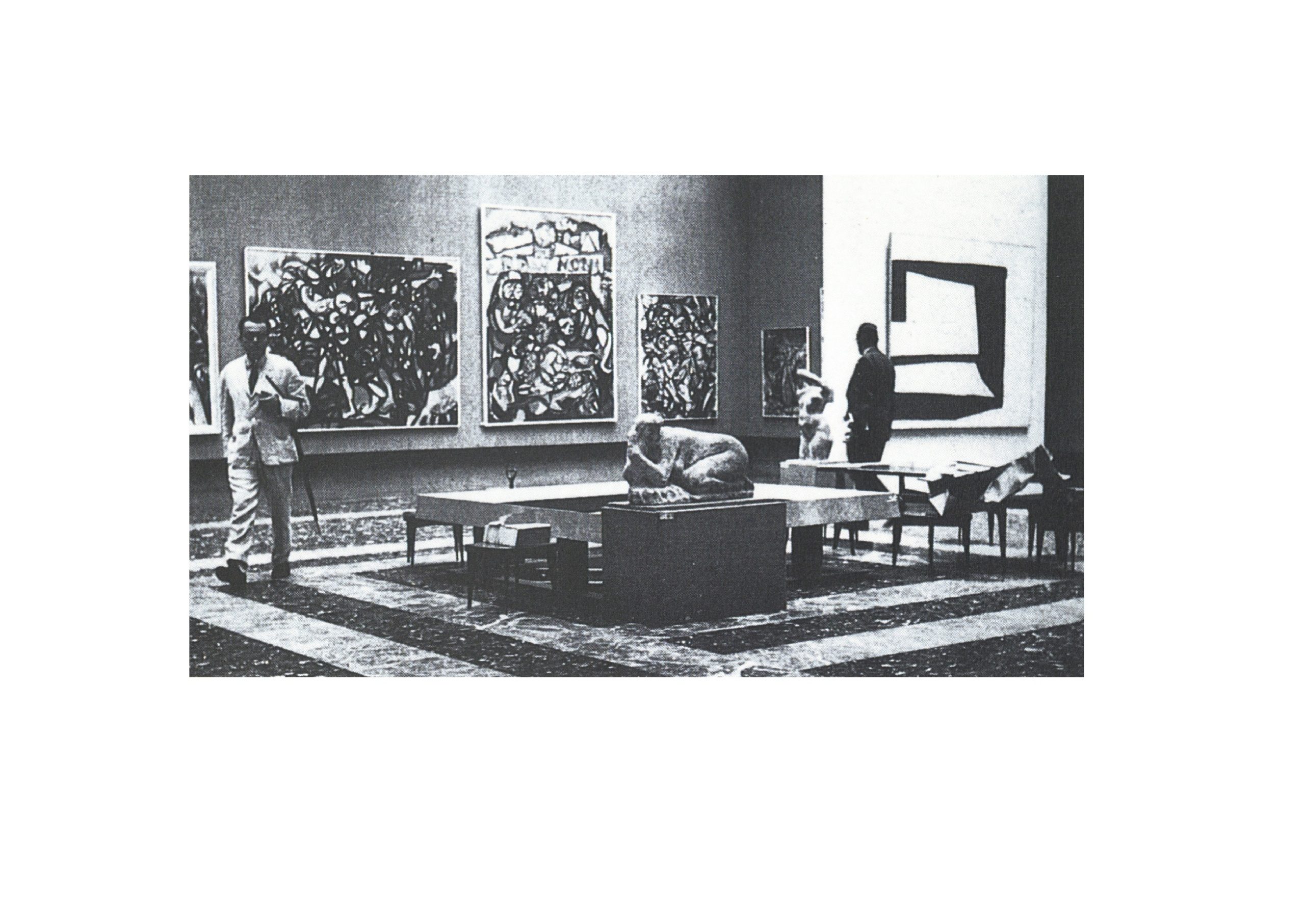 1958 29th
International Art Exhibition
La Biennale di Venezia
Shuzo Takiguchi was appointed as the commissioner after a balanced selection of artists had been made including two from the area of Nihon-ga (Japanese-style painting), two from Yōga (Western-style painting), and two from sculpture. Consisting of a total of 48 works, the exhibition used the unique space of the Japan Pavilion that had newly opened at the previous biennale, and attempted to comprehensively showcase Japanese art ranging from artists using traditional methods to those seeking more free means of expression.

From the area of Nihon-ga, artists Seison Maeda and Ryushi Kawabata presented works created through traditional methods using ink, with motifs such as flowers, birds, landscapes, and Buddhist imagery. Meanwhile participants from the area of Yōga were Ichiro Fukuzawa who was known for introducing Surrealism to Japan, and Kenzo Okada who had relocated his life and practice to New York. From the area of sculpture, Yoshi Kinouchi's bronze statues of female figures were exhibited alongside the works of Shindo Tsuji, who had pursued abstract expression through ceramic sculpture

As a result, Okada who had presented a total of eight works including new pieces such as "Between" and "Calm" was awarded the Astorre Meyer Prize (an award not designated to a specific genre that is given to outstanding works). His new manner of expression that reflected both an oriental aesthetic and a distinct Japanese sensibility in the context of abstract painting was highly evaluated.

On the other hand, with regards to the Nihon-ga works presented, art critic Yoshiaki Tono wrote, "It seems a ruthless fact that Nihon-ga with its pre-modern qualities had but raised the public's intrigue and curiosity towards exoticism, and was silently brushed aside by experts and critics." (Mainichi Shimbun, June 21, 1958). Takiguchi had pointed out the difficulty for the overseas audience to understand the fact that Japanese painting consisted of these two core and contrasting pillars of Nihon-ga and Yōga, which in itself is an essential issue of Japanese Art ("Miscellaneous Thoughts on the Venice Biennale", Gendai No Me, Newsletter of The National Museum of Modern Art, Tokyo, October 1959 issue, pp.3-4).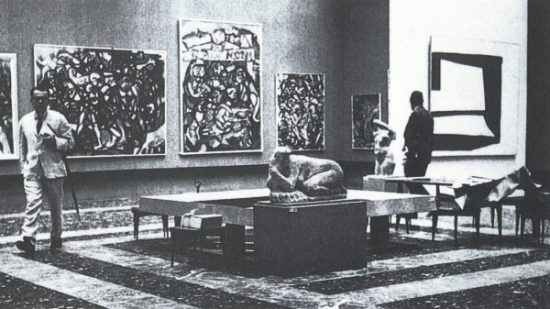 The Japan Pavilion
Artists

Representative

Assistant Commissioner
29th International Art Exhibition
La Biennale di Venezia
Theme

Curator

Gian Alberto Dell'Acqua

Dates

June 14 - October 19, 1958
All texts are based on information at the time.
Images for which the photographer is unknown are not credited.